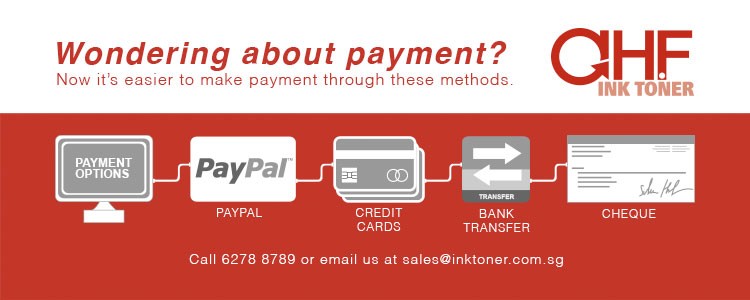 We have the following types of payment methods:
Paypal / Credit Card (in SGD Currency - Singapore)

~ Paypal account: paypal@ahfcreative.com
Bank Transfer
~ If you have a UOB account and have activated your online banking system, you can pay for your purchase at inktoner.com.sg to the following account:
| | |
| --- | --- |
| Bank | United Overseas Bank |
| Account Holder Name | AHF Creative Pte Ltd |
| Account Number | 373-302-811-2 |
| Email | |

If you're making payment from other bank accounts (e.g POSB / DBS), payment will reflect in our UOB account within 2 working days. To speed up your delivery, kindly email us the successful transaction confirmation printscreen/PDF.

Cash or Cheque
~ Beneficial name on the cheque must be AHF Creative Pte Ltd. You can choose to drop the cheque into any UOB branch by writing the following details at the back of the cheque:
| | |
| --- | --- |
| Name | AHF Creative Pte Ltd |
| Bank Name | United Overseas Bank |
| Account Number | 373-302-811-2 |
| Tel | +65 6278 8789 |

or pass the cheque / cash to our delivery guy
    4. PayNow / Paylah
     ~ You can make payment via Paylah or Paynow. Check out your order, and selected "Bank Wire / PayNow / Paylah" as your preferred payment method. Once you have proceed with the order, you will receive an e-mail from us with our PayNow/Paylah QR code. Kindly ensure that you key in your invoice number in the comment section, so that we can identify which order is yours (failling to do so will result in delay of the delivery for your order.). 

    5. Credit Terms Payment (for corporate customers only)
        ~ We offer credit terms payment to corporate customers (subject to management approval). If you'd like to apply for credit terms payment, kindly e-mail us for the application form. As the application requires 2-3 working days to process, if your first order is urgent we recommend that you make payment by cash/cheque on delivery. If application is successful, we will contact you via e-mail.